Christian Addiction Resources, Education, and Support for families and friends
If you have a loved one who is addicted to drugs, alcohol, or other destructive behaviors, you are not alone. CARES is a support ministry that exists to equip you with the knowledge, skills, relationships, and resources necessary to deal with another person's addiction.
Click Here to learn more about CARES at New Beginnings Bible Church.
Recommended Reading:
An Addict in the Family, by Beverly Conyers
We highly recommend this book for those coming to grips with the fact that a loved one is addicted to a substance. Conyers will tell you almost everything you need to know, and her insights will help you develop a well-informed, mature understanding of the nature of both addiction and recovery. There are no false promises here, only truth and hope.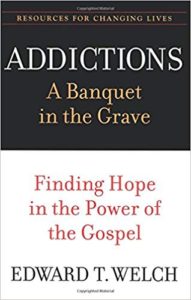 Addictions: A Banquet in the Grave
by Edward T. Welch
In this powerful book, Welch correctly portrays addiction as a worship disorder, in which a person worships their own desires rather than God. Much can be learned here, not only about addiction and how to approach the topic as a Christian, but also about our own idols and foolishness. A Banquet in the Grave takes its title from Proverbs 9:13-18:
"The woman folly is loud; she is seductive and knows nothing. She sits at the door of her house; she takes a seat on the highest places of the town, calling to those who pass by, who are going straight on their way: 'Whoever is simple, let him turn in here!' And to him who lacks sense she says, 'Stolen water is sweet, and bread eaten in secret is pleasant.' But he does not know that the dead are there, that her guests are in the depths of Sheol."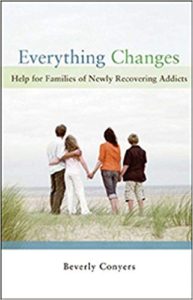 Everything Changes: Help for Families of Newly Recovering Addicts
, by Beverly Conyers
Whereas An Addict in the Family is all about the nature of addiction, Everything Changes focuses on the lengthy and often frustrating process of recovery. Discover the wise way to support your loved one. There is a light at the end of the tunnel, but the road ahead of you is still long and dangerous.